If sharing time with your girlfriends is what you're looking forward to, include Superior Spray Tanning in your agenda. Simple bonding can mean a lot so if there's chance to share time with them, it should be totally planned out. Have a Spray Tan Party a night or two before to attain that great bronze look for your girl's night in or a girl's night out. Thinking of the best way to spend the night with friends is something you will never regret, social is in. Make it happen twice a month depending on your hectic schedule that's why choosing the best activity that will best fit to your wants and needs can make your bonding more memorable.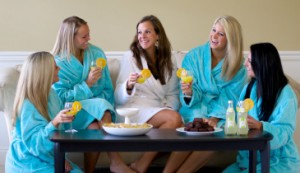 Include us at Superior Spray Tanning with your friends and make your night out incredible. When you plan to go out during spring and summer, getting a Spray Tan can bring you so much fun it's awesome to try something new. Besides, spray tanning will always make you and your friends more beautiful. Just make time for you and your friends and plan a girl's night in or out a couple times a month. Rotate whose house you go to or take turns choosing where you will all meet, have fun with it.
If you have kids, put them into bed and call your girl friends to hang in your place. This may be the easiest idea of a girl night in bonding. Hosting a spa night party can also be a great thing to do. Make each other fabulous while having fun by doing some beauty treatments with your friends. Always remember to call your Spray Tan Artist to get an Airbrush Spray Tan to finish things off.
The great thing about girl's night in and girl's night out is that you can do anything you and your friends want. There are so many choices to make your bonding so much fun. It can be a gossip session, dancing and singing even everyone is out of tune, having a simple dinner the list goes on. The important is you're having fun with friends so treasure every moment and treat yourself well, you deserve it.