It's a busy time of the year… summer is coming to an end, so you're trying to get in as much summer fun as possible – all while getting ready for back-to-school season. Whether you are the one who is getting ready for school, or you're getting your children ready for school, or both, don't forget to make time for yourself.
College students are getting back into the swing of things, and that means settling in to college life! Dorms are bustling, students are moving about campus and college activities are picking back up. At Superior Spray Tanning, we offer special promotions just for our students! So many College formals take place in the Fall.  Fall festivals, College football games, formals, and sorority events are just some of the top reasons that students come in for our sunless service. Custom Airbrush Tanning is much more customized, with less change of error. We use Norvell products- the same products used by Dancing with the Stars.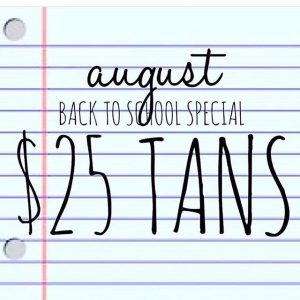 Throughout the month of August, all students receive spray tans for only $25 when they show a valid school ID!