Becoming a mom means that your health and your skin needs to go through a much more careful screening process. The good news is that getting a spray tan while pregnant is not only perfectly safe, but it can also be a great mood lifter and a chance to unwind from stress and anxiety. It is no secret that adjusting to a new, curvier body can be a tough task. Getting that perfect golden skin tone can be just what you need to help you feel sexy and feminine.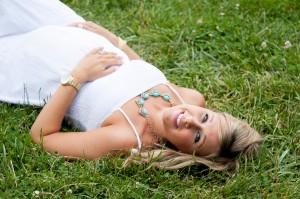 What You Should Know Before Getting a Spray Tan While Pregnant
DHA, the most common coloring agent in today's fake tanning formulas, typically stays in the top layer of your skin. Because the top layer of the skin is composed of dead skin cells, any cells that are affected by DHA naturally fall off and get replaced by new cells within a relatively short period of time.
The main concern when it comes to getting a spray tan while pregnant is inhaling DHA and other chemicals by accident. To prevent inhaling, make sure you are in an open, well ventilated area.  In between tanning sessions, use natural bronze powders to cover or blend in spots that are fading.
Because your hormone levels can fluctuate dramatically throughout your pregnancy, do a skin test before getting a spray tan or using any self-tanning lotions. In addition to checking for skin irritation, make sure that you are not bothered by the product's scent. Some pregnant women find the smell of self-tanning formulas to be too overwhelming to use on a regular basis. If you are sensitive to strong smells, look for organic formulas without artificial preservatives or added fragrance.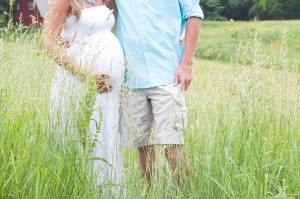 Remember that while fake tanning during pregnancy is generally harmless, it is always a good idea to check in with your physician before you make any changes to your skin care routine. Your doctor knows you best, so getting his or her approval can help put your mind at ease about getting a spray tan while pregnant. If you are still nervous after seeing your doctor, wait until you are in your second trimester before you use any fake tanners.