Grab some friends for an afternoon or evening of fun without the sun. Each participant will get a Superior Spray Tan. We will travel to your home. Great for bridal parties, girls night or afternoon brunch.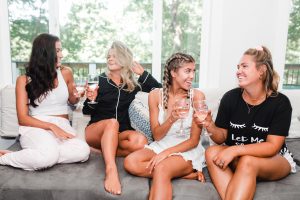 How does it work?
A Superior Spray Tanning artist will come to your home with her mobile spray tanning kit, including a pop-up tent. They will set everything up in a private room (with good lighting). After a brief orientation, will begin tanning each person, one by one. Each participant can rejoin the party after their tan.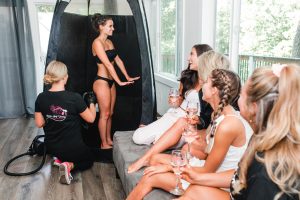 How much it costs?
Only $58 per person, with a minimum of 6 participants.  If there is 10 or more participants, it will be $45 per participant. If less than six, group is responsible for full party price of $348. You can cancel up to 48 hours in advance.
What's my house going to look like?
A Superior Spray tanning artist will set up our mobile unit inside your home. This unit includes a pop up tent, which will keep all the spray inside the tent and not on your carpet and walls.
You will be provided, by email, instructions for how to prepare and take care of your tan, please pass these along to all participants.