Halloween is coming up in a couple of weeks and that means parties, events and get-togethers. Are you planning a sexy Halloween costume and you need a perfect spray tan to do the trick? Don't be the only ghost at your Halloween Party!
Take advantage of the Halloween spirit and dress up in your best costume. Whether you plan to go as a sexy super hero, an adorable kitty cat or a tough police officer, spray tanning will do away with the pasty white and give you the beautiful, bronze skin to take your costume to the next level. Put the finishing touches on your costume by getting your spray tan so you don't show up to the event PALE!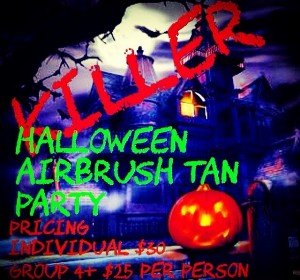 Don't miss out on our Killer Halloween Airbrush Tan Party on Thursday October 29th at our Eldersburg studio. Spray tans are only $30 or $25 if you come as a group of 4. This is a HUGE discount! Appointments are quickly filling up so email us at StephanieSmith@superiorspraytanning.com to reserve your spot. We will be serving some ghostly snacks and deadly love potion! Come party with us while your spray tan so you will look amazing in your Halloween costume.